How Much Do Surrogates Make?
A surrogate's compensation package is about trust, and ensuring you have what you need, when you need it.
Growing Generations' surrogate pregnancy compensation package offers up to $63,500 for first time surrogates, with additional benefits up to $35,000. Growing Generations surrogates are some of the highest-paid surrogates in the industry. Plus, as a surrogate, you're eligible to receive up to $4,000 before you have your first attempt at pregnancy.
A surrogate's pay varies. We use a flat rate pay model, which in black and white, means surrogacy pay with Growing Generations looks like this:
$63,500 – First time surrogate compensation for working surrogates in California
$57,000 – First time surrogate compensation for stay-at-home surrogates in California
$58,500 – First time surrogate compensation for working surrogates in all other states
$52,000 – First time surrogate compensation for stay-at-home surrogates in all other states
Experienced surrogates and some surrogates residing in Southern California are compensated an additional $5,000-$35,000. Contact us to learn more!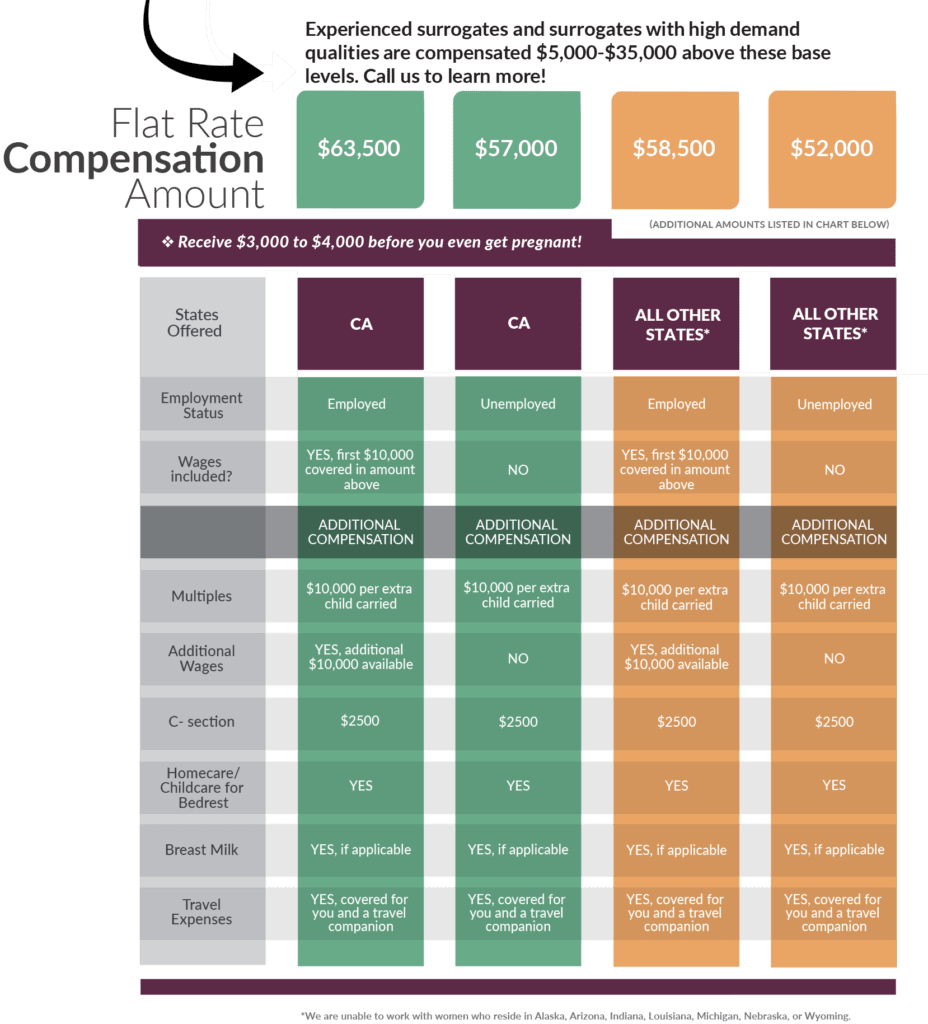 Flat-Rate Pay & Why it's Better
Flat-rate pay programs, vs. line item compensation programs, are based on trust, and are simply easier to manage.
Who has Time for Paperwork?
Line item-based benefit packages require you to submit paperwork constantly to have funds released to you. Simply put, that's busy work for all of us. So, we got rid of it. We'll pay you more up front because we trust you.
Does the Flat Pay Model Allow for any Additional Incentives?
Yes! You can earn up to $4,000 in incentives before you're ever pregnant. Ask your admissions specialist how you can earn the following:
Up to $1,000 screening incentive
Up to $1,500 contract-signing incentive
Up to $1,500 medication start incentive
Does Surrogacy Pay for Services like Childcare, Housekeeping, and Bed Rest?
Certain services, like housekeeping and childcare, have rates that vary by state. When you receive more base pay vs. an itemized amount per service, the hourly rate at which you can spend on these services is determined by you; not us. In the event you are placed on doctor ordered restrictions, you will be eligible to receive additional childcare and housekeeping reimbursements.
Hire the service providers you like and trust at whatever rate works for you. Need a pet sitter? Would you rather fly grandma in to watch the kids than hire an overnight babysitter or to help if you're placed on bed rest? Traditional line-item packages rarely cover care for your pets or untraditional childcare arrangements while you travel. We trust you. That's why you're a Growing Generations surrogate, and that's why we give you more freedom and more base pay. It allows you to make the choices that are best for your family.
How Much Does Surrogacy Pay for Maternity Clothes?
On average, most agencies pay $500-$1,000 for maternity clothing. Growing Generations understands that different bellies grow at different rates and many surrogates already have some maternity clothes. We believe you are responsible enough to manage your own budget. As such, your maternity clothes will be funded out of your monthly compensation. This allows you to buy what you need when you need it.
How Much Do Surrogates Get Paid for Monthly Expenses?
Since we only accept mature, responsible surrogacy candidates, we've abolished the monthly allowance model. While most agencies pay an average of $200 a month for allowance, we pay you more up front. This allows you to manage the small, miscellaneous fees that come with surrogacy.
How Much Does Being a Surrogate Pay in the Event of Complications?
While surrogacy is no riskier than any other pregnancy, complications cannot always be avoided. We don't believe women bold enough to help others create a family should only be compensated in the event of an actual complication.
We've built complication fees into your base compensation. For example, only 15% of our surrogates experience an "invasive procedure" (such as a D&C or amniocentesis) during their journey. Instead of paying a surrogate $500 for one of these invasive procedures, we pay every surrogate more because she is willing to take the risk that comes along with any pregnancy. In the unlikely event of a more serious complication, additional insurance benefits are provided to ensure our surrogates receive the care and support they deserve.
We know that most women do not become a surrogate for money.
Most successful surrogacy candidates are more interested in helping create a family and fulfill a dream for others than they are in how to become a surrogate for money. Even so, paid surrogacy allows women the opportunity to do things they otherwise may find difficult. Common examples of things that become possible for a paid surrogate include launching their own business, buying a car, putting a down payment on a new home, paying off debt, or the ability to stay home with their young children.
Whatever your motivations are for investigating surrogacy and Growing Generations, we're glad you're here and look forward to speaking with you more.
---
Creating the Magic of Family
When you choose to become a surrogate and carry someone else's baby, you're making dreams come true.