How Much Does Surrogacy Cost?
We offer three professional fee packages: Concierge, VIP Concierge, and Executive VIP Concierge. Each one is designed to provide you with an exceptional and unparalleled customer experience. The average cost of our surrogacy process ranges from $175,000-$300,000.
Factors impacting costs include your surrogate's location, previous surrogate experience, employment and the number of attempts it takes to achieve pregnancy.
Each program delivers a high level of care and concierge service tailored to your family's specific needs. If you also plan to work with an egg donor, you can view those costs here.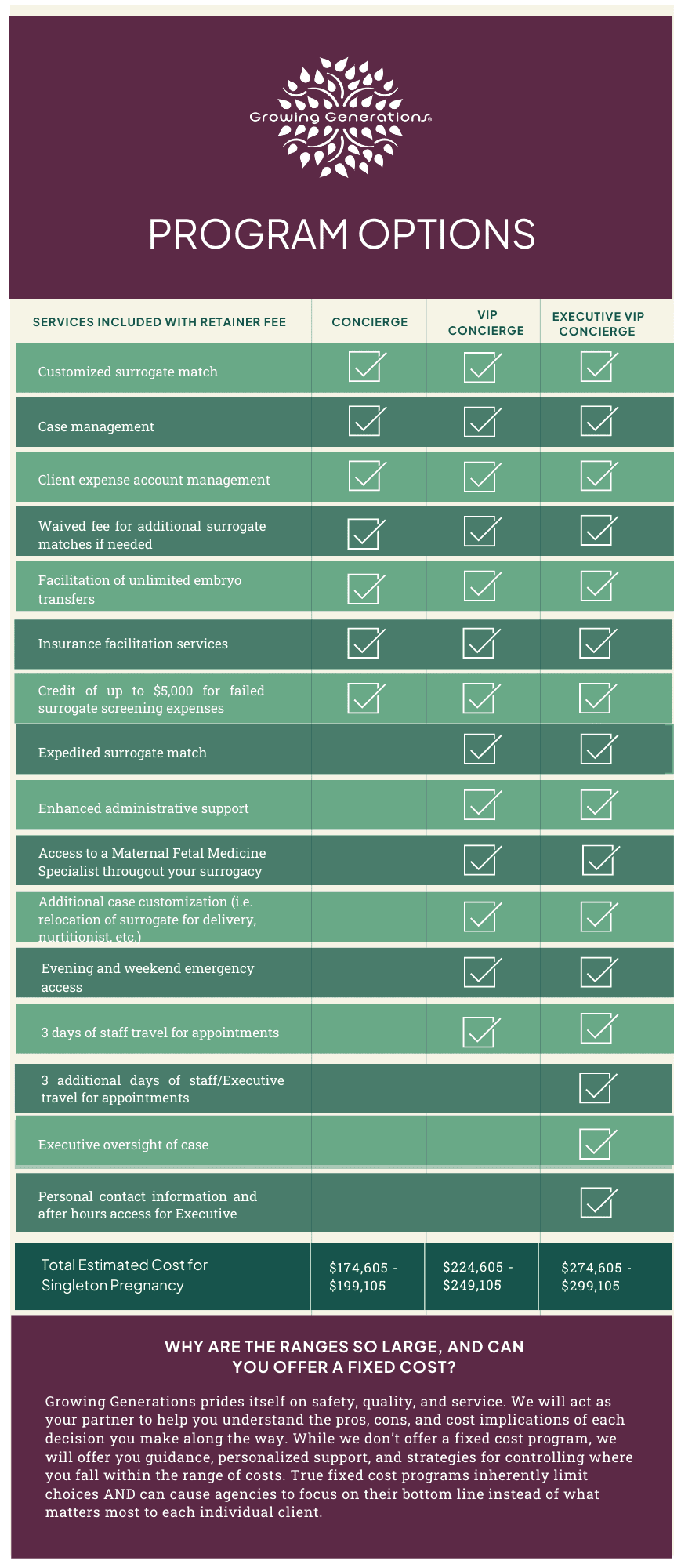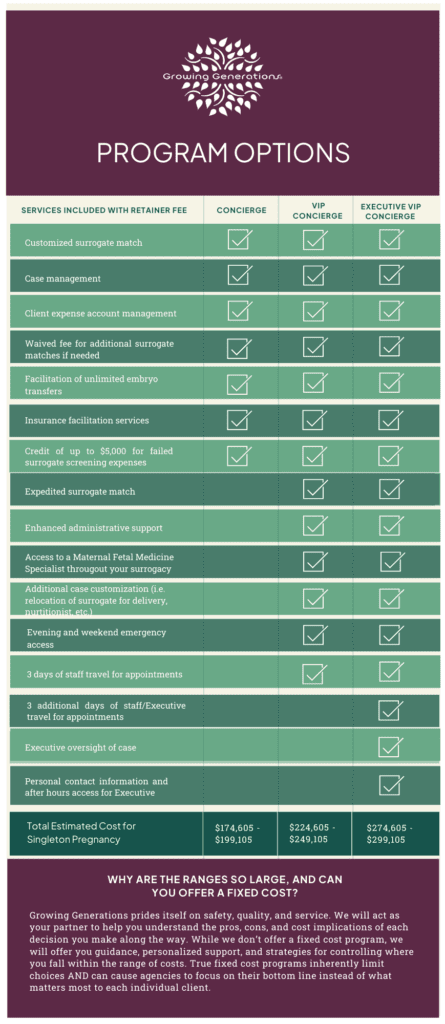 Would you like a customized budget based on your specific needs and desires? Contact Us Today!
We offer fixed pricing on our professional fees, psychological support, insurance expenses, and even on legal costs through our outside legal referral. Many IVF physicians offer fixed pricing on their services too. This leaves you with the gestational carrier's benefits and expenses. These are not fixed but have been designed so your costs are limited if you need to do multiple embryo transfer attempts, or the surrogate is placed on bedrest.
Other agencies offer fixed price programs, and they work very well for many people. However, when you fix costs relating to your surrogate, you limit choice and the ability to fully tailor a surrogate match to your needs and desires.
We don't want to be restricted in serving you by making sure your surrogate match agrees with our bottom-line finances. We want to focus on what matters most to each individual client.
Why are the Cost Ranges so Large?
The largest ranges have to do with how much your gestational surrogate receives in compensation, the state in which they live, and which Growing Generations program you select.
The compensation for surrogates is first based on whether or not they earn income that will be impacted by this process. A surrogate who is employed will receive an additional $6,000 in compensation. Next, surrogates receive more compensation if they have previously been a surrogate. The increased compensation for an experienced surrogate starts at $5,000 and can increase to $30,000 or more.
The demand for surrogates in California is very high. As such, California surrogates receive $5,000 on top of the base compensation amount in addition to the other benefits listed above.
Do I Need to Pay All Surrogacy Costs at Once?
Creating a family through surrogacy can take two to two and a half years. While not all costs will come up at once, the majority of funds will be due within twelve months of starting the process and are broken into two or three payments.
If making a large bulk payment in a short amount of time is not possible for you right now, but you can make monthly surrogacy loan repayments, there are surrogacy financing options available. Click the buttons below to learn more or to apply.
Will My Insurance Cover Surrogacy Program Costs?
Most traditional health insurance policies do not offer coverage for surrogacy, although some policies will cover portions of the IVF medical process. We have noticed an explosion in the number of employers offering family creation benefits that cover a significant portion of the surrogacy process. Check out our FAQ on family creation benefits to learn tips on how to find out whether you have a surrogacy benefit, and if not, how you can advocate for yourselves and your colleagues. We routinely help intended parents understand how their benefits lower their overall costs, so we invite you to schedule a consultation with us to learn more.
How Much Does It Cost to Create Embryos?
If you do not already have embryos created, you'll also need to factor in the expenses of creating embryos using your own or donated eggs. Families using their own eggs should expect to spend $26,000-$35,000. If you'll be pursuing surrogacy with donor eggs you can expect costs to range from $50,000-$80,000
Why Choose the Growing Generations Surrogacy Program?
The Growing Generations surrogacy program helps hundreds of people each year become parents.
Our goal is to prepare you for the journey that lies ahead. Knowing and understanding surrogacy costs and creating a budget at the beginning of your process can help reduce stress and delays. We've been providing surrogacy services for more than 25 years and have an expert understanding of the financial process.
We firmly believe in disclosing all costs up front, including medical and legal expenses, so there are no surprises down the road.
We are happy to help you review cost estimates you have received from other sources and offer advice and guidance. Growing Generations is dedicated to helping you start your family through surrogacy with a clear understanding of costs.
---
Want to Get Started? Have More Research to Do?
Let us do the work for you. Click below to have us contact you to book a free consultation, financial analysis, or to answer any questions you have.